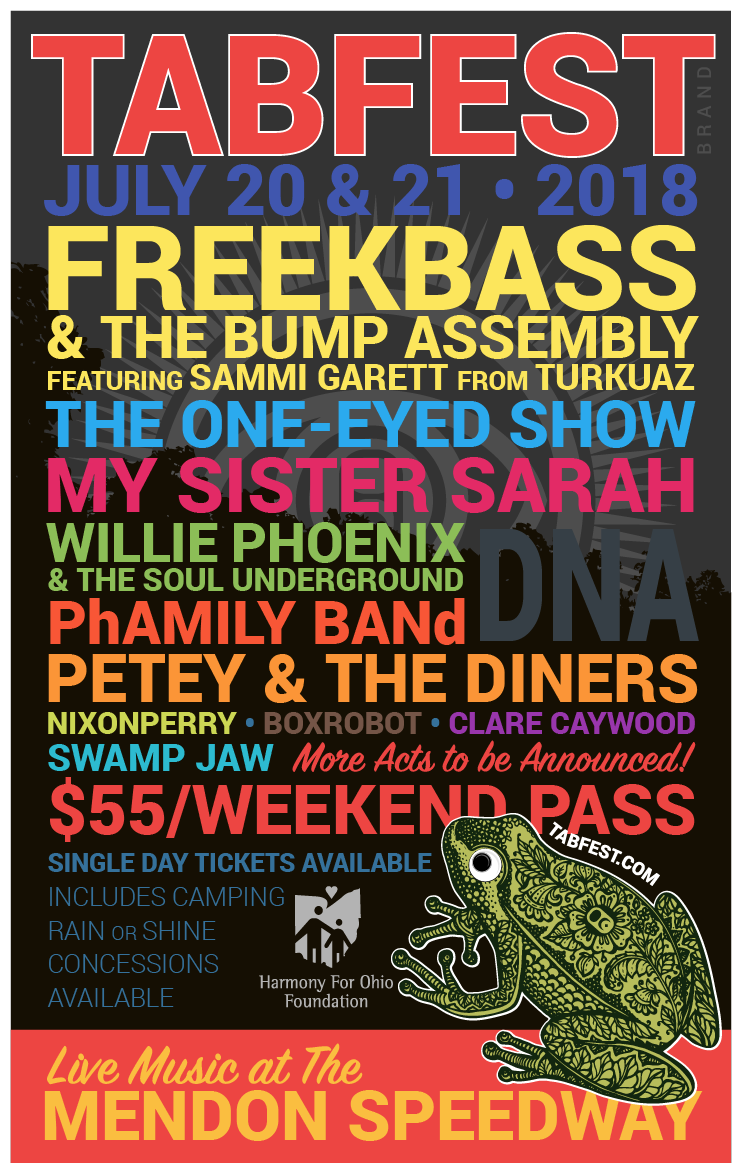 After a five-year hiatus, Tabfest returns to the Mendon Speedway for one more weekend of fantastic music, beautiful camping, friendship and charity all for a great cause!  
Tabfest is more than just a festival. It's a community. It is talented musicians, volunteers, dancers, vendors, friends and parents. It's people who love music and care about helping other people. We know that the blood sweat and tears have made this event so special — ever since the first Tabfest in 1998.


You know there ain't no party like a Tabfest Party.


Tabfest 2018 Lineup
Freekbass & The Bump Assembly Featuring Sammi Garett from Turkuaz
Scotty Bratcher Band
The One-Eyed Show
My Sister Sarah
Willie Phoenix and the Soul Underground
PhAMILY BANd
DNA
Petey and the Diners
NixonPerry
Boxrobot
Clare Caywood
Swamp Jaw


The Tabfest Story
Tabfest started as an organized party in 1998. The goal was to have a good time and to collect aluminum can tabs for donation to Ronald McDonald House Charities. The party was a huge success, so Tabfest became an annual event the following year, as the event featured a DJ and a larger venue. Once again the event was a success and plans quickly turned toward making the 3rd Tabfest a two-day charity music festival with camping. We moved the venue to the Mendon Speedway at the Grand Lake Motorcycle Club for the first music festival version of Tabfest and the rest is history.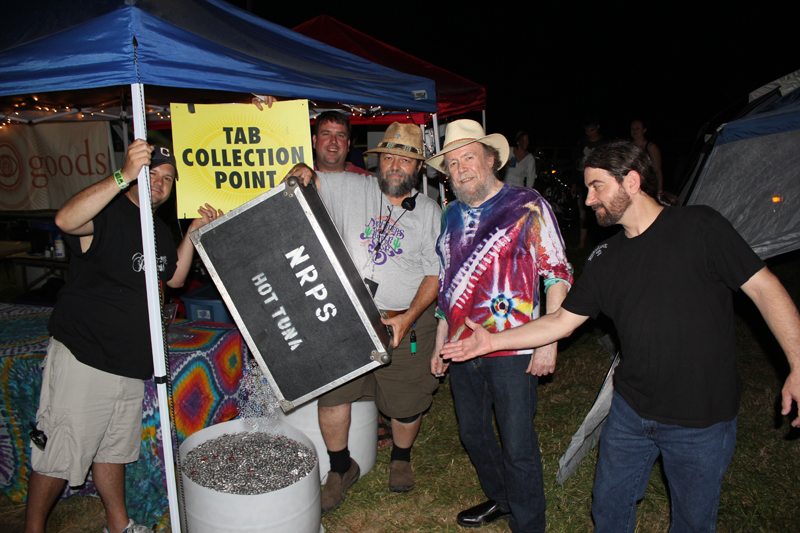 David Nelson and the New Riders of the Purple Sage with their tab collection.


Once Tabfest started gaining regional attention, a 501(C)(3) not-for-profit foundation was formed to manage the event. The organization was named the Harmony for Ohio Foundation and established this mission: to raise funds through various programs for the direct support of Ohio-based, nonprofit organizations whose programs provide comfort and care to children and families in need. Tabfest and the Harmony for Ohio Foundation are powered 100% by volunteer efforts

Aside from Tabfest, the Harmony for Ohio Foundation has produced an annual Turkey Trot that is held on Thanksgiving morning in Minster, Ohio. The foundation has also hosted a number of charity golf outings as fundraisers. In total, the Harmony for Ohio Foundation has donated $70,000 and over 10,000 pounds of aluminum can tabs to Ronald McDonald House Charities of the Miami Valley, the Mendon Lions Club, Big Brothers/Big Sisters of Van Wert, Auglaize and Mercer Counties, St. Marys Community Foundation's Shop With a Cop program, MED Foundation, JTD Hospital Foundation, and Hero Strong.